I felt like this album was the story of my life for so many years. Truthfully, I still kinda do, but it does start with a happy tune! Cue the Music and Go! Revival
I got interested in theatre at the end of my freshman year of high school at the tender age of 14 in 1989. Two of my friends from school and church, Camper and Laura, were into theatre and began talking with me about it and encouraged me to attend the last show of the year, Mame, and I knew I wanted to be a part of that.
My mom is a professional classical pianist, the head of keyboard studies at her university. My dad is a very good classical guitarist and was a preacher before i was born. I spent a lot of time in churches growing up, and even more time under the piano while my mom practiced. I grew up in churches. We also went on loads of camping trips with my dad's guitar and sang around the fire at night. I loved choir and still love to sing. I never really had faith like the rest of my family and seriously questioned what was being said in sermons when I was 11. That is when I began my quest to learn about other religions, starting with buddhism.
But the music always filled me. I was a church choir member from as early as I can remember until I left high school. I learned to read music in third grade. I auditioned for and received solos and leading roles in church musicals over the years. I was in a few touring choirs.  Having my first personal introduction to theatre via a musical was a great vehicle for me.
The next year I auditioned for the Fall play, the first of the year, and got a bit part but had a few lines. I stayed in theatre and got deeper into the department. Camper and I both love to build and we became alternating set construction crew chiefs. I kept auditioning and got better and better roles.
My second year in theatre, my junior year – 1990, 15 years old – a few things changed. I got a leading role as a character actor in the Fall play – our non-musical Tim Kelly adaptation of Les Miserables. We had some new blood in the acting pool, a transfer student, a senior, Kim. She was fantastic.
I was Inspector Javert and she was Mrs Thenardier, the Innkeeper's wife. I don't know a ton about Les Mis and don't suppose you do either. A plot summary is irrelevant to this tale. What is important about this plot is that Javert kills himself. He commits suicide by throwing himself off a bridge into a river. Even in the Tim Kelly adaptation – this happens onstage.
I am not trying to toot my own horn here, but I got really into the craft of acting. I was naturally hard wired to understand and enjoy becoming someone else. I won an award for Excellence in Acting and Character Development from the Folger Shakespeare Theatre in 1991. That was for my performance as Antonio in The Merchant of Venice opposite Kim as Shylock. Kim also won an award for Excellence in Acting for that performance. Through auditions, I earned a spot in an exclusive and prestigious summer acting workshop in 1991. I placed 4th in a Virginia state-wide acting collegiate scholarship competition in 1992.
From the start, I was very interested in and explored character development. I tried to learn how to truly become my character, and to some extent, it worked. Personally, I have terrible posture and slouch constantly. But Javert was a ramrod straight kind of fellow and so did I become when portraying him. That worked to such an extent that I had to have the help of others to recognize it and figure out how to unlearn that posture when playing subsequent characters.
That is only one very small example and the most outwardly visible of how I initially took my characters inside of me and then let them run the show. Why do I belabor all these small details and what does that have to do with Kim? Remember when I said above that Javert killed himself onstage? I tried to emphasize how much I put into my character development and how much they put into me so that you may possibly have a glimpse into what that might have been like for a 15 year-old boy.
In early rehearsals it was no big deal. Once Camper, the Crew, and I finished building the set and dragged the track and field's high-jump mat into the theatre, it became real for me. Camper and I built this set as a series of ascending platforms connected by narrow walkways. I jumped to my death off the highest platform. I killed myself in every rehearsal thereafter, which was troubling, but less so than in the performances. In all but the final rehearsals, the lights are up, there are people running around and other people giving you notes. But for three nights in a row – Show Time – it was real. I killed myself – three nights in a row.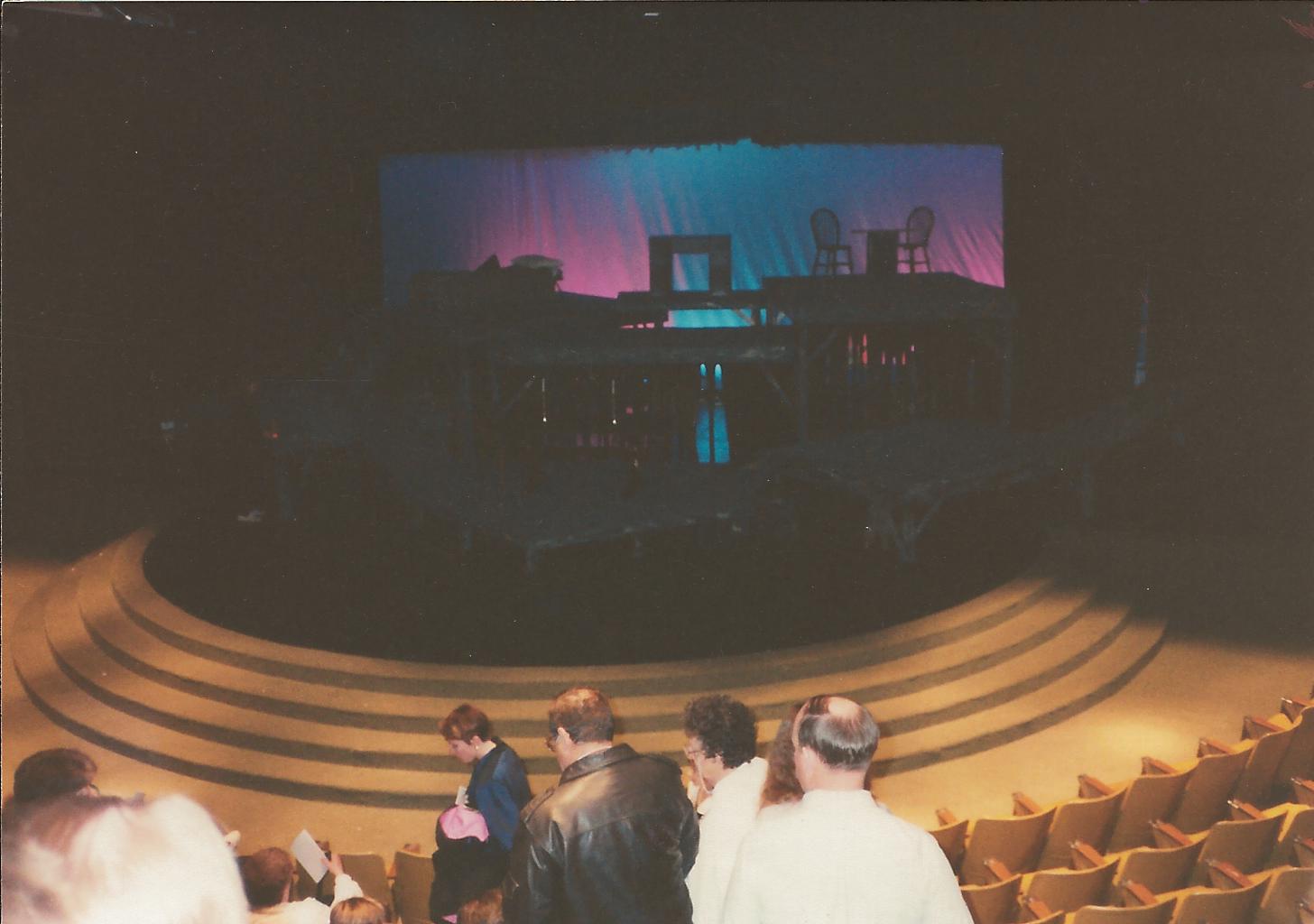 Stay Tuned